FieldTrack is one of the best field staff monitoring application that gives your perspective over all your projects, at work and at home. Also, provides the facility to access the task at any time, anywhere.
It becomes your task manager that can helps you to access or manage your all-daily task like field staff monitoring, project management, task status, task summary with image, audio and notes. All this task done by using this single application.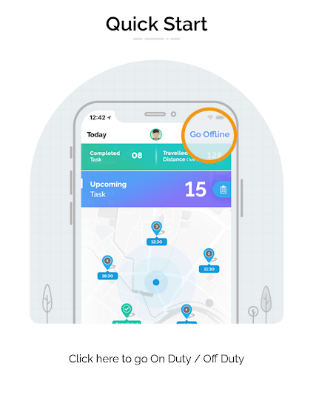 Main key factor of this task management app: -
Dashboards provide all the information in single screen like today's task summary.
You can easily set prioritise of your work as well as see all the task on geographical location.
Set On Duty / Off Duty status as per your need.
Leave management options are there to see leave approve, pending or reject status
Easily add new leave by using your smartphone.
Task filters by the assigned user, due date, status etc.
Field Personnel Management in Australia
Field Personnel Management Australia with Techtonika Autolink
It goes without saying that logistics companies employ many workers to handle all kinds of projects that are a crucial part of the transportation business. Not a single task is unessential, as they all play a fundamental role in ensuring that the whole operation runs smoothly and in a seamless manner. Not only can the admin easily access the current status of every running task, but they can even manage the existing or new tasks at their convenience, and all through a simple touch of their fingertips. The benefits of field staff management software solutions are endless, but it is crucial that one connects with a reliable service. When it comes to that, there is no better service provider out there than Techtonika Autolink. For Field Staff Management solutions, connect with Techtonika Autolink!
FieldTrack – the best Field Staff Management software on the market
Task management tools are extremely popular, and there is no doubt about it. And with FieldTrack, one can be on the receiving end of a bespoke field staff management solution. Not every logistic business is the same; sure, they have similar objectives, but it does not mean they require the same solution. Our bespoke solution is designed with the needs of the business in mind and is crucial for a smooth operation. Our staff management is the companion you need to manage all your daily tasks via a single application.
Why connect with Techtonika Autolink for a field staff management solution?
Techtonika Autolink has been the default telematic software developer in Australia, offering a wide range of solutions for logistics businesses. We are intimately familiar with the different kinds of requirements a business might face in its operation. Some require a solution that would allow them to keep track of their personnel when they are on duty. Others require a medium to connect the drivers on the go and in real-time. The requirements can be as varied as they come. Hence, the need for businesses is to connect with a reliable field staff management software provider.
Benefits of partnering up with us:
Customise your app as per your requirement
A hassle-free development process requiring only minimal submission from your side
A crack team of professionals at your disposal that not only guarantee the finest solutions but as per the schedule as well
Easy-to-use application with a user-friendly interface
Can easily modify the application and add new features in the future
24 x 7 customer assistance mechanism in place to ensure 100% customer satisfaction
Our solutions are available at affordable prices
Connecting with Techtonika Autolink is the wisest decision you can make for your business operation today! Not only do we provide the best field staff management software solution for a business, but we also do that at unbeatable prices. On top of that, we have a 24 x 7 customer support mechanism. What more could one ask for?