Routing and Tasking - Logistics
COMPLETE FLEET MANAGEMENT SOLUTION FROM ONE PROVIDER
Techtonika service is designed with our clients in mind to improve everyday work efficiency for both, logistics managers and drivers, increasing the rate of timely arrivals and cargo utilization.
WEB PLATFORM FOR DISPATCHER
The dispatcher can send created tasks, generated routes, and messages from TrustTrack Web platform straight to Driver App. Improved communication is complemented by the possibility to monitor task progress, receive the latest tachograph and fuel consumption data as well as connect with other systems or web services.
MOBILE DRIVER APPLICATION
The co-created Driver app ensures the best user experience – a simple and intuitive user interface enables the driver to easily navigate through received tasks with pre-defined routes, update task status, share files, photos, and messages with the dispatcher.
TABLETS WITH CONNECTIVITY BUNDLE
Integrated Service includes software, tablet, and continuous support. Techtonika focuses on user experience and ease-of-use, therefore tablet service with reliable connectivity bundle guarantees that the driver has no external distractions and uses the device for work-related tasks only.
REMOTE SUPPORT
Techtonika provides a long-term solution with excellent support and continuous development that means that more functions will be available in the future. Simple pricing enables the client to save on the additional fees (Driver App, tablet preparation, tablet replacement, tablet software support) and easily predict expenses.
Specified waypoints are turned into the most optimal routes.
Up to 3 route suggestions with length, delivery time, and ETA.
Easily edit the route, assign vehicles, and add notes.
See the latest information about the estimated time of arrival (real-time calculations).
Monitor driver's status, task, and route progress in one window.
Know whether your delivery would be on time.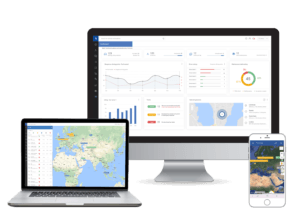 Calculate delivery costs.
Monitor driver's behavior and driving time violations.
Identify the best routes and drivers.