Real-time vehicle tracking is a proven way to improve fleet performance. Optimise operating costs, increase efficiency and save time.
Always know what is happening with your vehicles and improve overall fleet performance. Real-time information enables fleet managers and operators to react to any changes and make better informed decisions.
GPS Tracking | Fleet management in logistics
7 Benefits of fleet management system 
Real-time vehicle location and status
Vehicle address and coordinates
Link to share location with 3rd parties
Trip history
Various reports for trip and vehicle activity
Speed, fuel level and other parameters
Street view and traffic information
And much more!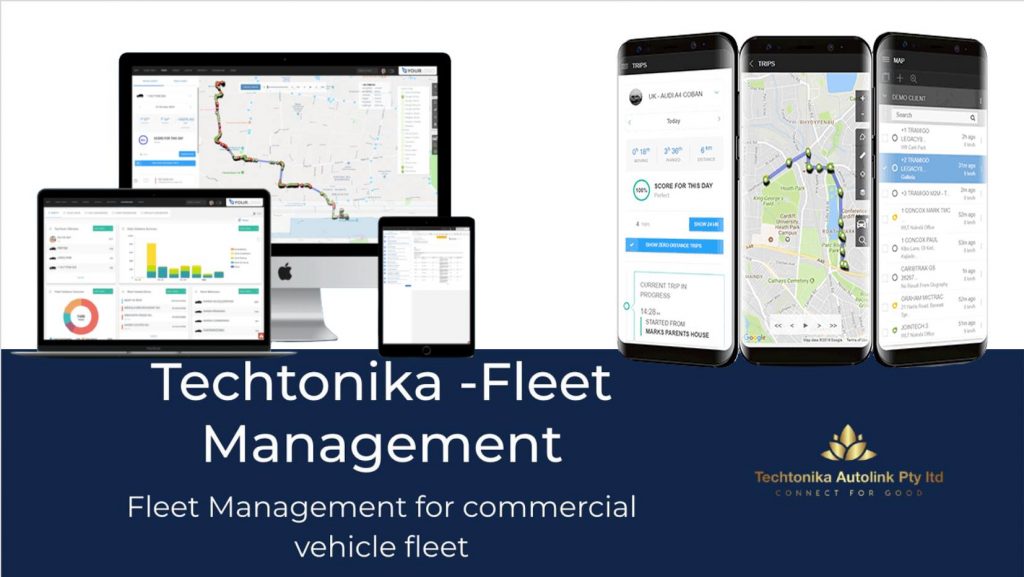 How telematics benefits business? 
Use advanced features to improve fleet performance.
Driver behaviour monitoring
Fuel level and consumption monitoring
On-board computer data reading (CANbus)
Trailer temperature monitoring
Custom events
Tachograph data
Vehicle maintenance management
Route planning and task sending
Real-Time Vehicle Tracking in Australia
Complete Vehicle Tracking solutions in Australia with Techtonika Autolink
Boost profit and reduce delays by monitoring fleet operations with real-time vehicle tracking in Australia. Vehicle tracking is the need of the hour for any logistics business that wants to compete in the current market and stay relevant in the coming years. Adding vehicle tracking solutions as part of the fleet operations would enable transportation companies to keep track of their operators. It can also be combined with other essential fleet management tools like route optimisation software to provide the business with crucial data to maximise its profits. Logistics companies need to modernise and immediately integrate advanced vehicle tracking as a standard part of their operations. And if you are in need of such fleet tracking solutions in Australia, then you could not find a better companion to assist you in your requirement than Techtonika Autolink.
Optimise asset utilisation with Vehicle Tracking solutions
Techtonika Autolink is the default destination for logistics companies to reach out for GPS tracking solutions for their fleet. We offer a top-notch vehicle tracking system as part of our comprehensive fleet management software solutions. You can opt for a stand-alone vehicle tracking software or our complete fleet management solutions, according to your requirement. Regardless of your choice, you could not make a better decision than to connect with Techtonika Autolink.
Benefits of partnering up with us:
Techtonika Autolink is the leading telematics company in Australia, offering a wide range of fleet management and maintenance solutions.
Our solutions are developed according to the client's requirements and are reasonably priced.
Techtonika Autolink has a transparent pricing structure in place.
Techtonika Autolink has hired some of the best professionals in the field, both in the software industry and professionals with years of experience in transportation, to provide clients with the best vehicle tracking solutions.
Our developed software is designed to integrate easily with the current operation mechanism and would promote smooth information flow across the management.
Detection of harsh driving; immediate notification is sent to both the driver and the fleet manager.
Easy-to-use software solution with a user-friendly interface
24 x 7 customer assistance mechanism in place to ensure 100% customer satisfaction
Lifetime customer support
Connect with us today!
It goes without saying that logistics businesses, regardless of their size, require advanced GPS tracking software to promote smoother work operations. Techtonika Autolink can help you with such a requirement. You only need to connect with our customer support team at your convenience, and we will immediately create a roadmap on how to develop a software solution that would meet your needs.
Still, have any queries regarding our tracking solutions? Our customer support helpline is manned by top professionals that are well-equipped to sort out any questions you might have. Do not hesitate for a second and schedule an appointment with us today!
We ensure your purposes of using a vehicle tracking system are accomplished in a seamless and lucrative manner.